About
Royal Decree 640/2021, of 27th July, on the creation, recognition and authorization of universities and university centers, and institutional accreditation of university centers, regulates the procedure for the institutional accreditation of university centers as an alternative to the model of accreditation of official university degrees regulated in Royal Decree 822/2021, of September 28, which establishes the organization of university education and the procedure for assuring its quality. In its article 14, the aforementioned Royal Decree regulates the institutional accreditation procedure, the requirements that university centers must comply with in order to obtain it, as well as the period of validity of the accreditation, which has been established at six years.
Objective
The main objective of this programme is to generate sufficient confidence in the centers and in their ability to provide training that guarantees the satisfaction of the needs and expectations of the students and of society. This confidence will be supported by transparent public information and accountability.  
Universities whose centers have obtained institutional accreditation will be able, while maintaining their effects, to renew the accreditation of the official programmes they teach without having to undergo the procedure of accreditation renewal per programme.
All the official university programmes corresponding to the accredited center will incorporate as the date of renewal of accreditation in the Register of Universities, Centres and Programmes (RUCT), the date corresponding to the resolution of institutional accreditation of the Council of Universities.
Assessment
The university will request the assessment.
Applicant centers must have the certification of their Internal Quality Assurance System and must have renewed the accreditation of half of their degrees (Bachelor) and master's degrees.
The SEC is responsible for evaluating applications for institutional accreditation.
ESG Compliance part 2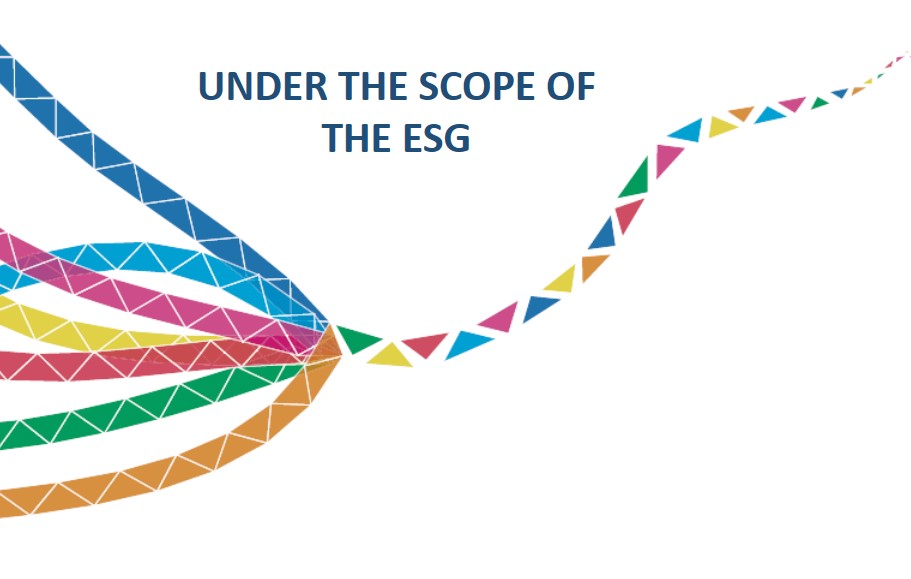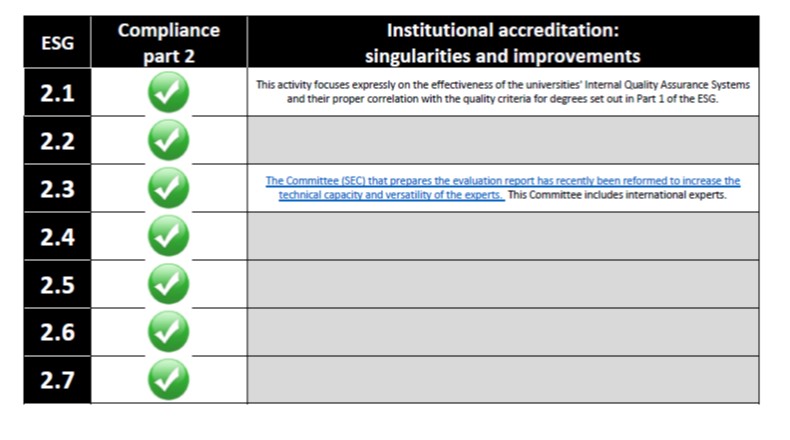 SOME KEYS TO INSTITUTIONAL ACCREDITATION
Article by Antonio Serrano, Chief Executive of the ACPUA.
Faculty of Economics and Business' Journal. Universidad de Zaragoza.
REACU DOCUMENTS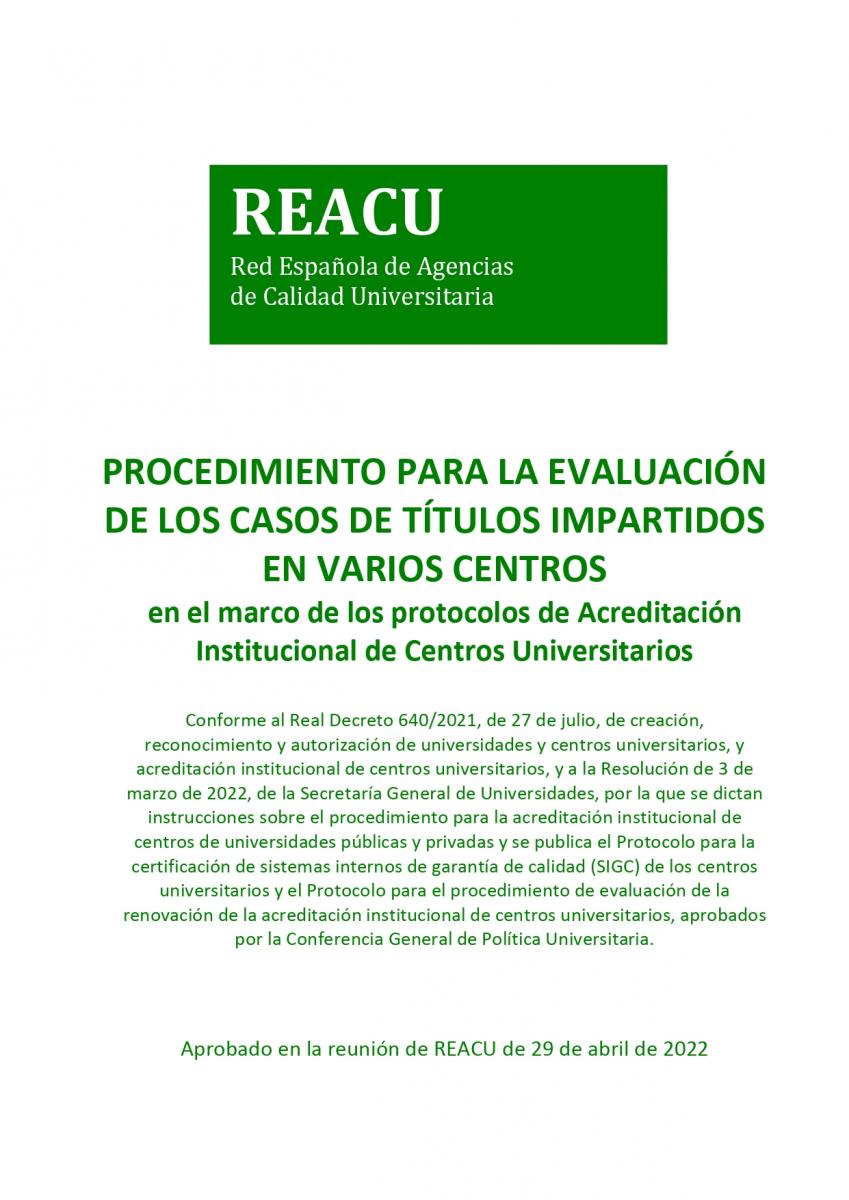 ​
REACU Protocol Procedure Joint Programmes (Spanish)
Accredited centers
| | | | |
| --- | --- | --- | --- |
| Universidad | Centro | Código RUCT | Vigencia |
| Universidad de Zaragoza | Escuela de Ingeniería y Arquitectura (EINA) | 50012177 | Del 27/11/2018 al 27/11/2024 |
| Universidad de Zaragoza | Escuela Politécnica Superior (EPSH) | 22004670 | Del 28/02/2019 al 28/02/2025 |
| Universidad San Jorge | Facultad de Comunicación y Ciencias Sociales | 50011941 | Del 10/03/2020 al 09/03/2026 |
| Universidad San Jorge | Escuela de Arquitectura y Tecnología | 50011938 | Del 18/05/2020 al 17/05/2026 |
| Universidad San Jorge | Facultad de Ciencias de la Salud | 50012013 | Del 18/05/2020 al 17/05/2026 |
| Universidad de Zaragoza | Facultad de Filosofía y Letras | 50008861 | Del 22/01/2021 al 22/01/2027 |
| Universidad de Zaragoza | Escuela Universitaria Politécnica- La Almunia | 50009671 | Del 16/11/2021 al 16/11/2027 |
| Universidad de Zaragoza | Facultad de Ciencias | 50008848 | Del 16/11/2021 al 16/11/2027 |
| Universidad de Zaragoza | Facultad de Ciencias de la Salud y del Deporte | 22006149 | Del 16/11/2021 al 16/11/2027 |
| Universidad de Zaragoza | Facultad de Economía y Empresa | 50012189 | Del 18/07/2023 al 18/07/2029 |