About
The Study Programme Initial Accreditation or Verification is the ex-ante evaluation of a new degree.
Once the degree has been verified, modifications may be made to it, which may be "non-substantial", i.e. they do not entail a change in the nature, objectives and fundamental characteristics of the registered degree, or "substantial" in the opposite case.
Objective
The Study Programme Initial Accreditation ensures that the degree design complies with the requirements stipulated by current regulations, while the assessment of modifications ensures that the degree evolves while maintaining compliance with them.
Assessment
The study plan (design document presented by the universities) is evaluated by the CER (Evaluation Committees by field of knowledge & PhD) corresponding to the field of knowledge (area) to which the degree is assigned. The CER's report is then reviewed by the SET (Programmes Evaluation Committee), which is responsible for issuing evaluation reports.
Processing
Universities apply to the Council of Universities for the Study Programme Initial Accreditation and Substantial Modification of their degrees.
In the case of Non-substantial Modifications, in degrees implemented in non-institutionally accredited centres, before introducing the modifications in the report, ACPUA must be requested to approve them. If the "non-substantial modification" is made to a degree programme implemented in an institutionally accredited centre, it is not necessary to apply to ACPUA for approval.
ESG Compliance part 2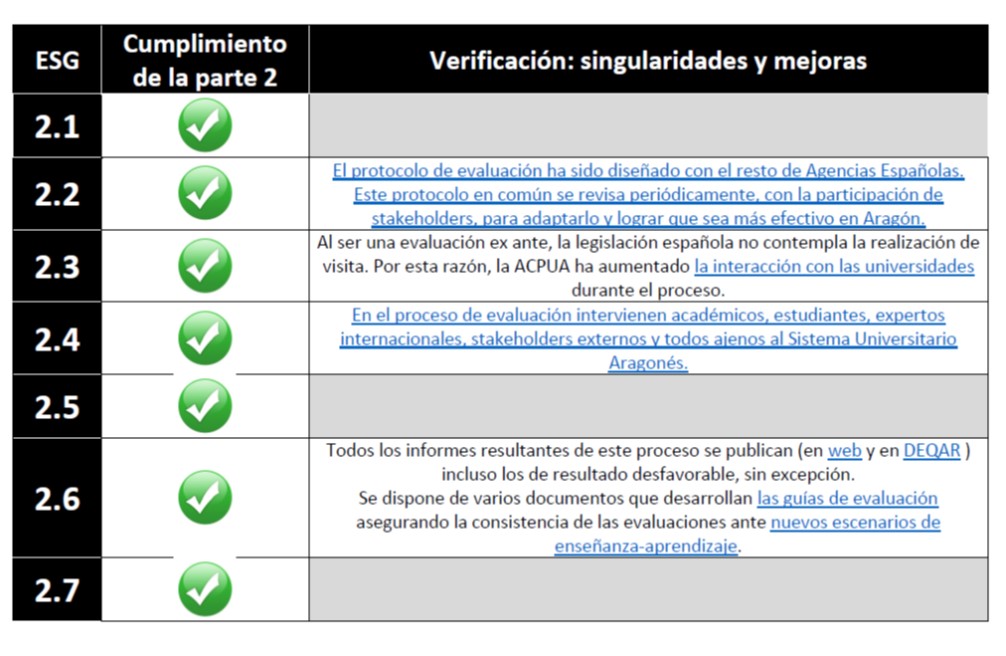 Documents REACU
​
​
DOCUMENTS DEGREE and MASTER

Protocol REACU Initial Accreditation Degree-Master (Spanish)
Protocol REACU Modification Degree-Master (Spanish)
Guidelines for teaching modalities (Spanish)
Guidelines for lifelong learning diplomas (Spanish)
Assignment Fields of knowledge (Spanish)

Successive rounds (Spanish)
Mention (Spanish)
Specific curriculum strategies (Spanish)
International Joint Titles (Spanish)
ETCS Máster (Spanish)

​
Teaching Foreing Institutions (Spanish)

PhD DOCUMENTS

​
​
​
Protocol REACU Initial Accreditation-Modification PhD (Spanish)
Documents ACPUA
DOCUMENTS DEGREE and MASTER

ACPUA Initial accreditation Program (Spanish)

ACPUA Modificatio Program (Spanish)
Guidelines to writing Degree Reports (Spanish) (VERSION 3)
Guidelines for teaching modalities (Spanish)

PhD DOCUMENTS

​​
ACPUA Initial accreditation Program (Spanish)
ACPUA Modificatio Program (Spanish)

DOCUMENTS ARTS HIGHER EDUCATION

​
Protocol Approval Arts (Spanish)
Evaluation Committees by field of knowledge & PhD (CER)
Evaluation Committee of Arts & Humanities Area

Jorge Fernández López, President

Universidad de la Rioja

César Fornis Vaquero, member

Universidad de Sevilla

Esther Alós Ordiales, student member

Universidad Complutense de Madrid

Clara Mateo Sabadell, external stakeholder

CreAcademia

Evaluation Committee of Sciences Area

Celso Rodríguez Fernández, President

Universidade de Santiago de Compostela

María del Mar Reguero de la Poza, member

Universitat Rovira i Virgili

Diego José Sánchez Martín, student member

Universidad Complutense de Madrid

Diego Marín Sánchez, external stakeholder

Geologist

Evaluation Committee of Health Sciences Area

Francisco Arnalich Fernández, President

Universidad Autónoma de Barcelona

Beatriz Atienza Carbonell, member

Universidad Internacional de Valencia

David Joao Cordeiro Fernandes, student member

Universidad de Murcia

Rocío Márquez Díaz, external stakeholder

Nurse

Evaluation Committee of Social & Legal Sciences Area

Jordi Suriñach Caralt, President

Universitat de Barcelona

José Antonio Caride Gómez, member

Universidade de Santiago de Compostela

Cristina Soria Gallardo, student member

Universidad de Valencia

Elvira Congosto Luna, external stakeholder

Teacher

Evaluation Committee of Engineering & Architecture Area

Elena Valderrama Vallés, President

Universitat Autònoma de Barcelona

Jesús Félez Mindan, member

Universidad Politécnica de Madrid

María del Mar Fernández Antolín, student member

Universidad de San Pablo

Elena de Mier Torrecilla, external stakeholder

Coordinator public-private partnership: AECID - Fundación ACS